Monday 8th January 1945
Wrote to Pickford re Mr.Palmer's impending move. Also wrote to Janie telling her not to worry. The rest of the day was lazy. Read L.A.G. Strong's 'The Bay". 
Note: The Bay tells the story of Luke Mangan, who begins to have an adulterous affair with a woman who soon dies.Crippled by guilt for the part he played in her demise, Mangan decides to atone by marrying humbly, with the help of a Parish priest. Written in his inimitable style, Strong deals with elemental passions in a thoughtful, and sensitive way.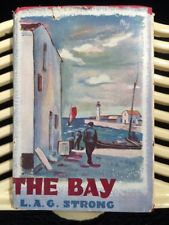 Not to be reproduced without permission