John and Janie met at their local church. John was training to be an optician, Janie was a secretary. In 1938 they married and moved to Minehead, where John had joined a firm of opticians, and their son Anthony was born in October 1939, just after war with Germany was declared.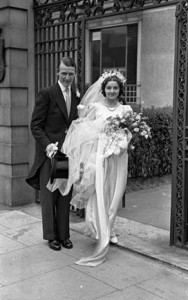 John and Janie Askew on their wedding day, 18th April 1938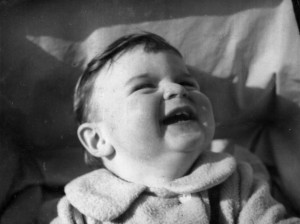 John and Janie's son Anthony born October 25th 1939
John enlisted in May 1940 and was ordered to report to No.1 Training Battalion, Royal Army Ordnance Corps, Cambridge Barracks Woolwich as acting Staff Sergeant.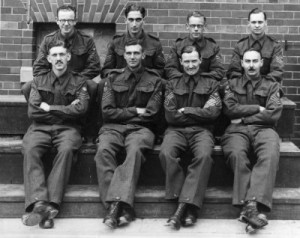 John Askew, front row, third from the left.
The other men in this photograph are known to be John Westbrook, "Tiger" Glover, Duchers, Courlander and Dunn, though unfortunately we do not know which was which. They were all also Opticians and friendships formed at the time continued well on into John's future career. His sons can remember him talking about John Westbrook even when he was in his late seventies.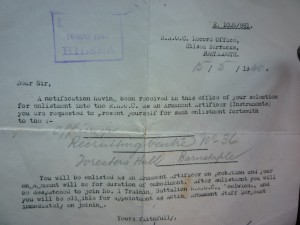 John's enlistment letter, dated 15th May 1940
John's first letter home after enlistment was written on 24th May 1940. On the envelope of this letter John has written at some stage later on "First Letter".  Clearly he thought his "letters home" might be of interest to future generations.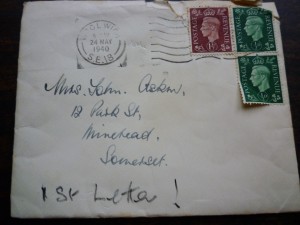 John passed his first exam, the Trade Test and sent a telegram to Janie on 31st May 1940 to say he had been promoted to Staff Sergeant.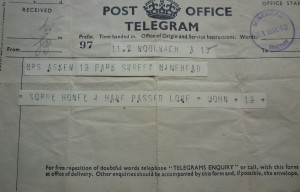 2 Responses to Background
Not to be reproduced without permission