Bethany Askew
John and Janie worked in Cranmers Opticians, later known as Cranmer and Askew, until 1960 when they set up their own business John Askew Opticians, with branches in Wellington and Minehead.
Janie never had the little girl she so desperately longed for but a second son, Paul Russell, was born in 1947. Both boys went to Taunton School as John and Janie had planned and both trained in optics, joining their parents in the business, Anthony as an ophthalmic optician in 1963 and Paul as a dispensing optician in 1968.
The family moved from the rented house in King George Road in 1956 to a bungalow the had built on North Hill in Minehead, the dream home John and Janie had always talked about.
John was extremely successful: a popular family optician, with a flourishing business, he was Chairman of the local branch of the Association of Optical Practitioners and then National President; he worked hard wit the NHS and the government to further the optical profession and was awarded the OBE in 1988 for his services to the profession. Despite ill health, he never retired and was still working three days a week right up to the day he died in 1997.
Janie continued working in the practice she helped John build up until ill health finally forced her to retire. Although she survived him by five years she never recovered from John's death and mourned him until the day she died, a contented smile on her lips, happy that she was going to see her Johnnie again.
"Together again" John and Janie's grave in Minehead Cemetery 
Same as usual
10th March 1946
My darling Janie,
This is Sunday afternoon and I'm at Wharncliffe Gardens. I got up early this morning and went to church. 
On Friday morning I learned there was to be a C.O.'s parade. Well, I didn't want any more parades. Fortunately on Thursday when I was on guard duty I got permission to wear shoes so of course when I heard about the parade I intimated I should be delighted to take part but in shoes. Of course that was about the equivalent of offering to wear a Porkpie hat and the upshot was that I did not attend the parade. You see I have a corn and to wear Stephen's boots on it is several sorts of agony.
Yes, as you have discovered I found out from yr British Optical Association that as self-respecting oprticiand we are not allowed to dispense for the National Eye Service which means that as they don't dispense for themselves presumably Curry and Paxton will send a representative to take orders and do fittings. Now I believe young Brown of Browns the Jewellers works at Curry and Paxton in Taunton and so you may possibly see Browns blessing out as prescription opticians as a sideline. Try and find out what ophthalmic surgeon is doing the testing.
Well there isn't much we can do about it except produce an even better service at our own place so that people will stick with us.
It's all very unfortunate but by no means tragic. From a publicity point of view I think t's best to ignore it as beneath contempt. You know it may even act as a useful buffer against the serious competition of another good optician who may be looking out for a pleasant place to have a practice. 
I went to Edgware on Saturday to take Dave's glasses and the developing tank that I had bought for Stephen. We took some indoor snaps then made up the chemicals and developed the film straight away. They were tickled pink with the results. I was lucky. Exposures—guesswork—was correct. The results were sharp in spite of length of exposure.
Today has been a quiet and pleasant day but unfortunately not quite enough to write you a decent letter my sweet.
So here I am on Monday again and I'm in my office again.
You know I've met quite a number of people who before the war were quite content to live and work in London, who, coming back after six years' service don't know how they are going to stick the place for the rest of their lives. So I don't seem to be alone in my desire to live my life where nature is close by in the open countryside. This feeling was given point yesterday when listening to the radio. It was the six o'clock news and we heard of the football tragedy at Bolton and of various international troubles, followed by an excellent talk by Dr.Summerskill about the good shortage and the starving million. All these horrors were followed by "Country Magazine"and what a wonderful contrast to the ears. Here no greed or selfishness or suspicion, just a few ordinary country men, a farmer and shepherd, a country doctor etc saying why they loved their particular part of the country and the enjoyment of their various country pleasures. None had much money but they were really living and enjoying every moment of it.
Contrasting with the lousy news was some lovely music. I had my first dose of Beethoven's 5th symphony and then in the evening the "Unfinished" produced in a most unusual manner helped me a lot.
Stephen rang last night just as Jane Eyre started. His first words were "Are you listening to the play?" I said, "Yes" so he said, "I'll ring you later." Your father, who wanted to speak to Steve was all for ringing him up in the middle of the "Unfinished" but I said "I bet he's listening to the radio and as soon as it's over he'll ring you again. I was right.
I had two good sermons as well yesterday and so all in all I had a slack, enjoyable and refreshing day and the news from Minehead gets into its right perspective.
I'm longing to see you again my sweetheart so roll on Thursday and you and Anthony.
All my love is yours as always
And so am I
Johnnie xxxx
Same as usual
21st February 1946
Darling,
              Good news indeed—I am to be released on Tuesday 26th March. 25 group is commencing on the 14th as was originally suggested.
If I can manage it I'll stay on in London until Thursday so that I can attend one more Refraction Hospital lecture.
It was nice to hear your voice last night and I really didn't mean to be rude but it was rather like getting a telegram, I thought that there was trouble and I wanted to know what it was straight away. So I hope that I'm forgiven sweetheart.
At 6.30 am this morning I heard a furtive tap at my window and when I looked out there was Maurice. He came in and had a wash and breakfast with me and then I went up to St Johns Wood station with him and even then I caught mty usual train from Charing Cross.
He seems very well and looking forward to coming down to Minehead. He'll then shoot off to Bournemouth.
I had another long talk with Stephen last night but that can wait till I see you.
Oh darling I am looking forward to seeing you on Saturday and perhaps I won't have to say Godbye to you for many years, perhaps not a serious Goodbye at all.
Till I can prove it all my love is yours my sweetheart, to forgetting Anthony.
Always your own sweetheart,
Johnnie xxxx
Same as usual
16th February 1946
My Darling,
My mind is just full up but I do so want to talk to you. I can't write—and here is my class so I'll have to stop for now.
You see I've been to see Mr.Aitcheson about this deal of partnership. He read it through and said that it was a proper document and as far as he could Cranmers or Pickfords had sacrificed their right to pass the business on to John Pickford by not obeying the clause of the document. But then the document is very badly drawn up. It's vague where it should be explicit and detailed here it doesn't matter.
Stephen is looking into the document for me as I want to know if possible where I stand. But even if I found that I was within my rights to fore them out I couldn't do it.
However, I'm getting to know as much about my position as possible and then I shall talk things over with you and we'll decide our line of action.
This slackening off of the business is most interesting and makes one realise that the "Indian Summer" of the war in Minehead is over.
As a matter of fact I'm at Orchard Close at this moment. I spent the night here—ok, Dave and Stephen were here as well, and so this is Sunday morning and I'm trying to finish this letter off to you. Any moment now Steve is going to cross examine me about this deed.
On Friday night I went out with your parents and took them to the Gaunt. I wanted to see "Brief Encounter" and it was one of the nicest flicks I've seen and I shall take you to see it at the first opportunity. Your mother was very fidgety all the way through but as it all ended well she decided that it was a good picture.
It's a beautiful morning Darling: sunshine, fresh air and good company. I hope I have some weeks like this on leave. I'm so looking forward to some walks and cycle rides with you.
I got up and made the tea at 8.30 this morning. I doubt if I shall do as well next Sunday as bed has singular attractions when your head is on the pillow next to mine. However I gather our son has "laid on" tea, did he say what time?
Well, Darling. Steve is bursting to get to work sp I'll stop now.
All my love is yours my darling and until I can prove it, take care of yourselves and tell Anthony I'lll soon be home.
And your very own,
Johnnie xxxx
PS Just heard from maurine: he will come down with me on the 23rd. 
Same place
13th February 1946
My Darling Snooky,
Please excuse this writing paper but I've hunted high and low and just can't find any.
I hope I managed to convey to yo that my leave is on so I'll be along on the last train on Saturday 23rd. In this connection, don't forget the tyre for my bicycle because if yo can't get one you end-inner tube as well, let me know and I'll try here.
Evie has just been on the phone and I'm going up there on Sunday and the Sunday after that, oh boy, oh boy I'll be in your arms again. No, we must not stay in bed all day for I'm in desperate need of some real fresh air, my lungs are getting all clogged up.
Say, don't forget to stop my Auto car magazine on Tuesday 23rd February as I shall need it at home not up here and in that connection last week's arrived in perfect condition, in heavy armour-plating of brown paper—please thank them.
I am enclosing letters from Maurice, my Dad and Auntie Edie. The former should be home any day now and so might quite possibly come down to Minehead with me, is that ok sweetheart?
I got a ten pound box of digestive biscuits today from our canteen. Your mother is anxious for one half. They are in a proper tin box as you see in grocers' shops, they should keep for months if you want them and may come in useful for our summer entertaining.
I was cheerfully sitting on the lavatory today minding my own business when I heard shouts of help. I was unable to do anything, of course but fortunately the cries were heard by others who pulled an old boy out of the bathing pond behind the Instrument Shop—he had nearly drowned. 
All for now sweetheart, except to send you my love until I can give it to you.
Take great care of yourself.
Your very own,
Johnnie xxxx
As usual again
11th February 1946
My Darling Janie
Boy, I did enjoy my weekend. Short but very sweet and that's an apt description for you as well. What a lot of blurb this is but all I'm trotting to say is Darling that I did enjoy myself. It's wonderful to m sweet that you are ready to be so frivolous and enticing and on the other hand you can just as easily be practical and sensible. Being the right thing at the right time is an art.
I was impressed Darling with your new hold on your handsome infant. Good show Darling.
Now with regard to the letting of the flat. You have told me tat before taking the house at 45 King George Road you ask Charles Pickford if it would be in order to re-let the flat to help against the extra cost of the house. He, you said, replied to the effect that such an arrangement would be ok. Well, DArlog, I can't find that letter among the ones yo gave me last time I was home in December. So would you be so good as to have  look around. It doesn't make a great deal of difference to the situation as they have agreed t the present arrangement until my demobilisation. but it would definitely put me "in the right" if you see what I man.
I had a very good journey back in a carriage wit three other occupants and the train running on time so I arrived back home very little the worse the wear and also before your parens name home from the evening church service.
Well, my darling, thank you again for a simply lovely time.
All my love is yours Snooky and our little boy's.
Take great care and I'm your very own,
Johnnie xxxx
NOTE: I have pleasure in informing you that my leave has been granted: 25th February to 5th March as originally requested. The demob date of March 14th is still unofficia. This date has still not been published. "Jock" Henderson was in the same boat as I am with regard to leave and after making a lot of official enquiries he discovered that the order disallowing leave had been cancelled and that the demob date of March 14th was unofficial, hence the rule didmc apply.
So I shall be down the evening of the 23rd as arranged I hope, although after all this confusion and mess anything might happen s expect me when you see me.
Your own,
Johnnie xxxx (Extras for luck) 
Same again
8th February 1946
Darling Janie,
Sorry I didn't write yesterday but I had rather a lot to do. Anyway this should get to you before the weekend.
My leave has been cancelled in view of a London District Order stating that officers can't take leave within six weeks of demob so I've had it. But in view of the fact that they said I could and then had to cancel, I bagged a long weekend but I'll give you a tinkle about this tonight. My idea about the long weekend is to bring you back with me. We jar have to arrange the date.
As regards demob the day of my release will be announced later. Apparently vacancies are given to the various units and I take the first workshop vacancy. The reason for this is that they want approximately the same number through the demob centre each day. The second point is that I am told that you have to go to the nearest demob centre to your permanent address so it looks though I shall have to go to Tanton. This I feel may fit in with some plans that you may be concocting.
I've had a brainwave about a holiday: what about having a tour from time to time: two days here, two days there, go on buses or trains whichever suits best.
But it's late. I will develop this theme in my next letter.
All my love darling to you and Anthony.
I'm still your own,
Johnnie xxxx
5th February 1946
My Darling Janie,
Excuse the nice paper and pencil but as you said to me perhaps this is better than nothing.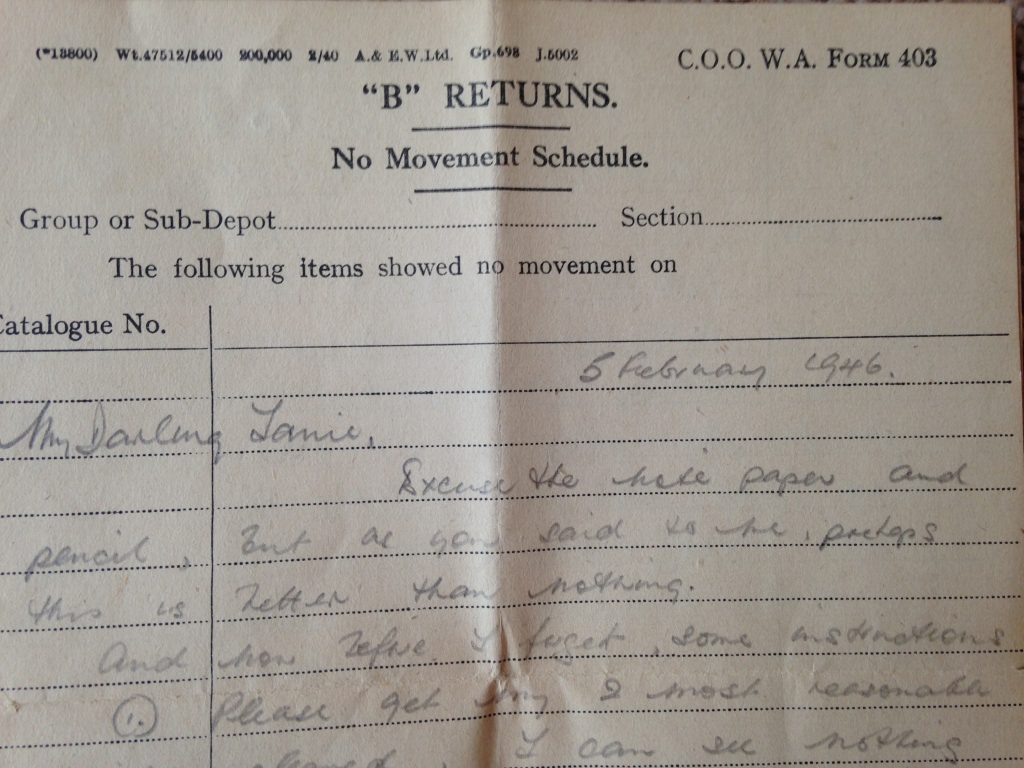 And now before I forge it some instructions:
Please get my two most reasonable suits cleaned. I can see nothing at present that I would dream of buying so I'll just have to manage for the time being.
I shall need a new back tyre ad inner tube for my bicycle and you'd better get me a few spokes as well. I seem to remember some of them have gone west.
I was on night duty last night. Nothing in particular happened except of course I didn't get to bed till twelve thirty so I'm feeling a bit sleepy this afternoon.
You know Darling I've simply lost all enthusiasm for this place now and I just want to get out and get on with the next job—something constructive, a real job, not just killing time. I'm just at sixes and sevens and am getting very little swatting done. Ross is back now and so a lot of talking is done and tis all wastes time and when I think I'm wasting time I get cross.
My litt;e watch is giving me great satisfaction and it goes beautifully. I do hope that you will like the look of it.
Russell may be alone for the day on Saturday and I expect I shall go to Edgware onSunday. I get  such grand arguments with Dave and Steve and the air is rather easier to breathe up there. I hope to have a bit of a walk as well.
By the way some of the snaps that were taken by Stephen's camera when we went out in the car with them last summer have turned out fairly well and I have requested the negatives so that I can get some prints done for us. I look the usual unlovable creature but you look quite delightful in some of them.
Well Snooky my dear I think that's all for now.
Oh, yes, there is one other thing. I've had a chit from the banking agents to say that India admit an error of £40 in the contested debit balance which amounts to the fact that they have agreed to one of the paragraphs in my "notice of objection" . To the rest of the letter there is no reply. So I dropped a line to the bankers acknowledging the letter and asking them to confirm that they would not stop any of my money until this affair was straightened up.
Well, I think that is all sweetheart.
All my love is ours and until I can prove it to yu again take great care of yourself and Anthony
Your very own,
Johnnie xxxx
As usual
3rd February 1946
Darling,
Just a little note to be included in your parcel. You will already have received the letter I intended to enclose but in writing I was too late to post the parcel so sent off the letter anyway.
You may also have gathered that while I was writing to you a letter arrived from you in which you say you hope the pyjamas have shape. You won't think these have nor are they dainty so I'm keeping my fingers crossed. Oh, in case it makes any difference I like them very much and I think they will suit you—see!
Russell got home about 12.30 this morning—church parade had ben cancelled so he nipped put quickly—and we are now about to have lunch.
Well, sweetheart, there is no more news and I want to pack up this parcel.
All my love is yours my sweetheart and Anthony's.
Take great care,
I'm still your very own,
Johnnie xxxx
Not to be reproduced without permission