repatriation
Thursday 26th April 1945
We learn there is no baggage room on Ship Z and that our luggage is confined to a suitcase. the ship is converted to an American trooper and all  officers have fallen for this beauty.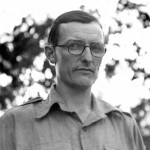 Note: The Africa Star was awarded for a minimum of one day's service in an operational area of North Africa between 10 June 1940 and 12 May 1943.
Letter 1st April 1945
Nowhere in particular
1st April 1945
Darling Janie
Just another short note my sweet to say that I'm on my way to you and have covered the first part of my journeying across India.
I'm now staying at my first swank hotel since I left Bombay over three years ago. I don't go for these places at all but we have time to kill before getting to the next place.
You'll notice I said 'we'. Tony Yarwood is my companion. He's from the Regiment. He's a grand lad but is going to be a little difficult to keep out of mischief. He's a trifle high-spirited if you see what I mean.
The programme is: swimming pool, sleeping under the fan and movies in the evening.
We intend to leave on Saturday and go elsewhere.
Be certain of one thing sweet, this business is going to take time/
We have met other lads on the same racket and all have three or four months more in than we have. One and all seem to boast the Nortb Africa Stars, I'll be shamed into wearing mine soon.
On the two days preceding my departure I received jolly letters from you sweetheart. I'd love to see your face when you start getting my letters.
All my love is yours my sweetheart.
Take great care of both of you.
Your own,
Johnnie xxxx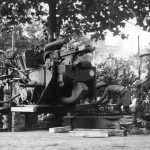 Same as usual
26th March 1945
My Darling Janie,
Just a short note but I think you'll find it sweet my darling.
My 'relief' arrives by air today and I shall be moving on the first part of my journey in two days' time. I have to arrive at certain places at certain times but I can give you no idea of the finish yet. Not before my birthday I imagine but within a month of that date is my guess.
The chap who is taking my place seems to be a hood type and I am quite satisfied at leaving my precious boys in his hands.
I have just received a jolly letter from you full of your spirits and I'm sorry that I won'r receive a letter from you when you get to know I'm coming. My darling, don't write any more as the letters will only reach me months hence when I'm in England. 
My pals can't understand why I don't show my feelings. They say to me "I should have been over the moon when I heard". But I can't get all excited. I'm just keeping my eye on the ball and making no mistakes at this stage. I really do want to come home to you.
Not so long now. I can hardly believe it.
All my love is yours and our little boy's.
God bless you both and I'm your very own,
Johnnie xxxx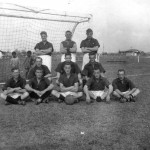 Same as usual
22nd March 1945
My own darling Janie,
I haven't a letter to reply to so I'll just have to shoot a line of my own.
Yesterday we had some fun and excitement. Just before we started off to football it looked like rain. After we had been playing for a few minutes there was a thunderstorm and it was raining in torrents.  We were all soaked to the skin but kept playing. It was great fun as it was so difficult to stand up when running let alone kicking and turning corners was quite out of the question. Of course it was an Inter-Section game and a great time was had by all and the game almost stopped for laughing.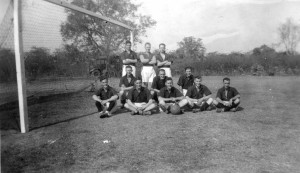 The thrill was going home after the game. The road was more slippery than the pitch. We had to drive half a mile up the road to turn around, crawling along the road, going into the ditch. Then we came to an embankment just wide enough to take the vehicle. It went right to the edge and the wheel was crumbling it away. If the driver stopped or accelerated he would have overturned (it was deep). If all the men had been on board it would have fallen in. We were dead lucky.
Well, my darling, I started this letter two nights ago and then wasn't able to continue last night. Are you ready? I've had a letter from a friend of mine who deals with repatriation at a certain important Head Office. He said my name is in the next bunch and that it would be through officially in a few days' time. Now please remember, this is unofficial. Perhaps I shouldn't have told you but I just couldn't keep it to myself. So sweetheart, in plain English, I'm now expecting my repatriation to come through at any time. How much time elapses from notification to embarkation and disembarkation I haven't the slightest idea. I should imagine that it varies tremendously. But as I get more accurate ideas I shall let you know. For security reasons I shall refer to possible date of disembarkation as FINISH. So I'll hope to finish at such and such a time.
I've been to the Officers's Shop today in order to get a good stock of socks, towels and sheets. I've got another pair of shoes and very nice ones they are too. I shall dispose of anything that is in slightly doubtful condition.
Well, my darling, I will close this and try and write again tomorrow.
All my love is yours my darling and perhaps our dreams ate coming true.
God bless you both and take care my loves.
Your very own,
Johnnie xxx
Not to be reproduced without permission