Wharncliffe
4th December 1945
My own darling,
I'm on guard this evening and having had my dinner and done the rounds I can settle down to some writing and swatting.
I shan't close this letter until I have have had the specialist's verdict which should be sometime after 9.30 tomorrow morning.
I went into the lampshade shop yesterday at lunchtime and got you a lampshade, one of those fluted affairs with pale blue trimming. It's going to be a hell of a job carrying it. I've found a cardboard box for t and t's huge. At the same tie I got your parents a lampshade for the front room—living room, I mean. I hope the sketch conveys some idea. The glass is green and the fittings are primrose enamel. I've put it up. It's not the sort of thing you can wrap up as a gift. Your father wanted to pay for it but I told them it was a Christmas present and not to argue. It cost 27/6 and I think you'll agree it's quite a nice gift.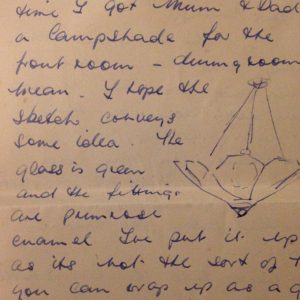 I rang Evie last night and asked her if David needed pyjamas or shirts most—shirts had it so I got her to give me his collar size and tomorrow I'll get him one from us.
Russell, Stephen and Evie I'm still thinking about.
I don't wear an overcoat theses days or a mac except when it rains—I wear my army pullover next to my shirt and that is sufficient for me although there was ice on the roads today. Of course I walk very energetically and feel fine.
Well, I've seen the specialist and he said I could have it done if I wanted. But that if it was no inconvenience it would never come to any harm. So I'm not having anything done.
He reckons it's a cyst containing blood that was not absorbed when I had my accident and fell off the roof of the Motor Transport shop about fifteen months ago. He thought that it might even be absorbed in time but was quite sure it would never go wrong.
So now we are all set for Saturday my darling and I am so looking forward to it.
All my love is yours, take great care of each other.
Your own loving,
Johnnie xxxx
Not to be reproduced without permission