Darling,
I've just been to see the "old man" and he turned down the original draft and recommended that I omitted the sentence crossed through in the enclosed letter. He says they have no interest in business reasons.
I've sent him the re-written letter using you as my only excuse. He says he'll forward this second letter with one from himself recommending my case and stating that in any case he is anxious to keep me as chopping and changing of instrument officers is adversely affecting the instrument workshop production.
Well, darling, this is better than I had hoped for. So now we;ve done all we can and we have got to wait for results.
Tonight I'm on duty at the barracks. It is more quiet than usual as the crowd have gone to the swimming gala. For my part I have just returned from the London Refraction Hospital where we have just had another two and a half hours of brain boiling. I've got three of the other opticians from this workshop going there now and John Westbrook will be joining as well.
After a lousy article in the News Chronicle about REME officers and Staff sergeants being delayed in demob I see tonight that we are to have authentic news at the end of the week from the Minister of Labour so I'm keeping my fingers crossed.
Of course this course goes on until the end of March next year at the present rate of progress (quite quick enough from the mental effort point of view) so it's not much use being demobbed before then, always supposing I'm left here.
Oh darling, please get me a bank statement from the beginning of the year for our account so that I can check what I'm being paid by H.M Paymaster. I haven't had a pay slip yet.
Well darling, all for now. I do hope you are getting on well at the business. I'm lonesome for you and although I've only been back a couple of weeks I want you badly. I'm getting worse and worse and I love you.
My love to you both,
Your own,
Johnnie xxxx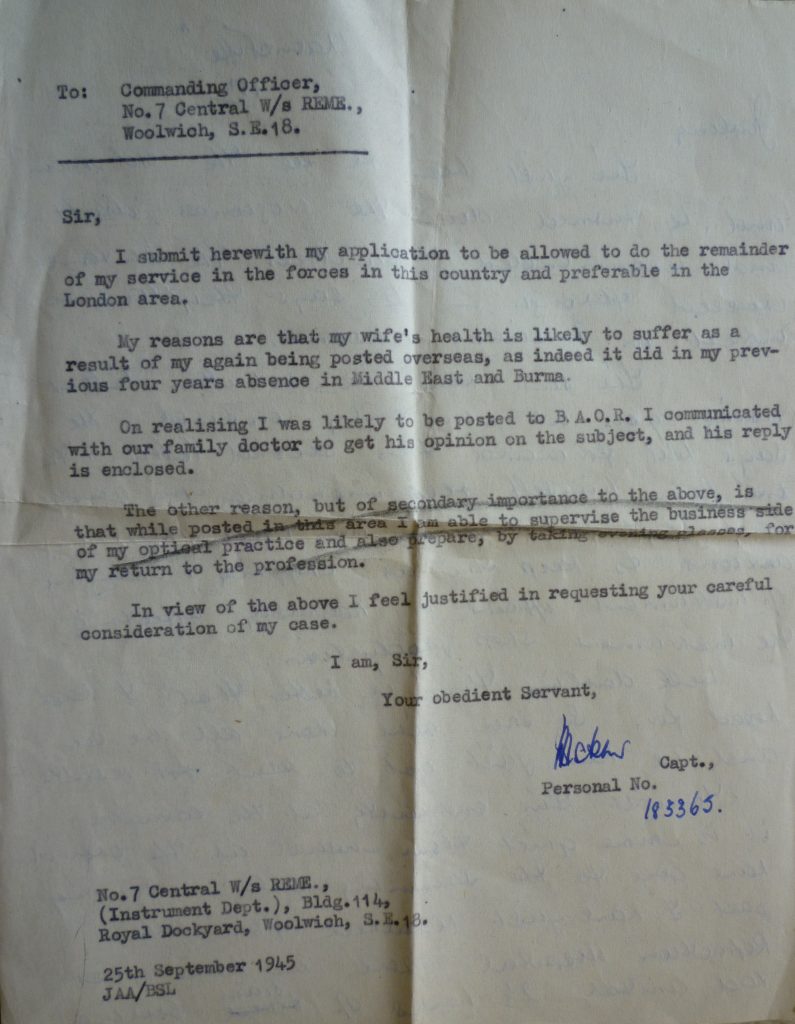 Not to be reproduced without permission