In war news at this time October 10th saw the Red Army reach the Niemen River in Prussia and continue the battle around Riga.
On this date also the  Allied combined forces took Corinth, Greece.
On 12th October Athens was liberated by the EAM (Greek Resistance) and British Troops entered. US Navy carriers attacked Formosa (Taiwan) and Field Marshal Rommel voluntarily committed suicide to save his family. He was later buried with full military honours.
In this letter Miss Warren was the receptionist in John's optical business in Minehead; Mr.Palmer was the optician doing locum work while John was away.
45 King George Road
Minehead
18th October 1944
My own darling John,
                                 I have just received the loveliest letter from you sweetheart, No.66 dated 3rd October. But let me get what bit of news I have off to you first.
Last weekend Mother, Dadda and Russell came down for two days. It was grand having them as it gets rather lonely by myself. They all went back on Sunday afternoon. Russell took me to a dance on Friday night John. It was lovely. I do love dancing as you may have guessed! Then on the Saturday we were going again but the weather was awful so we spent the evening dancing at home and teaching Dadda as well. Your father has sent me the gold cross and chain he promised to buy me. Did you know Miss Wareen is engaged to be married to a fellow named William Russell Watson Pomeroy from Herne Bay, aged 33? Also Mr.Palmer is going to get married on Feb 21st next to someone Mrs.W.Parsons introduced him to at Torquay last summer. She is a MISS Jones aged nearly 50, keeps a boarding house. After the marriage Mr.Palmer is going to live here and go thee for weekends until you come back. I think he is keen to be gone from here now but he has promised to stay here until you are able to take over then he is hoping to get a job at Torquay. He paid £18 for the engagement ring, emerald and two diamonds. (I got all this information from Miss Warren who says she will not be getting married until after the duration.
Her fiance works on a farm at present nearish to Herne Bay. I think she has a ring of there small diamonds and is a different person now. She went away on holiday recently with her young man to his people and she said it was the best holiday she has ever had. I said "Yes, I bet it was." and she blushed and said "Well, of course, you know what it's like." I said "Rather!" (I could have added "But our honeymoon will be to us better." but did not. This letter seems to be growing at a great pace and I have not even commenced to reply to your letter yet. It looks as if I shall have to overflow on to another letter.
I bought Anthony two winter versus today, six shillings and eleven pence each and they are not really what I wanted. Also a pair of dark green knitted gloves, the only pair available. He really could have done with size 2 as they just fit him but things are so difficult to get you just get what you can when you see them. I have had to order him some brown lace shoes from Ridlers, goodness knows when I shall get them. He now takes Size 11. Someone said recently they think Anthony will be taller than you even. I should not be surprised as he is growing at a tremendous pace.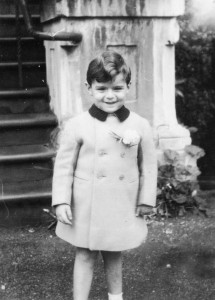 Anthony circa 1944
We have had some awful weather here recently and Anthony and I have both had colds but they seem to have gone now.
I think I told you that I am not sending you your proper Christmas gift. I am still trying to get it and then I shall keep it here for when you come home.
Oh, by the way sweetheart strange, very strange, that you should mention wanting me to buy you a gold wristlet watch. You know this telepathy business is actually very strong between us as about the time you must have written that letter I was asking your Dad if he wondered whether you would agree to my selling your gold watch and buying you a really good gold wristlet watch instead as you never use this one. Well, what do you say? Actually I am going to buy you a wristlet watch only I really want you to choose it my dearest. 
All my love my darling John. I will reply to your letter in my next airmail letter. I didn't have room here. God bless and keep you safe. Anthony sends you heaps of love and I send you all mine and me when you come home.
Always your very own wife and lover,
Janie xxxxxxxxxxxx
Not to be reproduced without permission