46 Wharnclffe Gardens
25th June 1945
My Darling Wife,
I do hope that you are OK my love. I'm fine but rather tired so after I've written you this my love I'll lie down and wait for your parents to come back.
Well, to start at the end I've been posted to No.7 Central Workshop REME Royal Woolwich Arsenal and now to go back to the beginning and explain how I got to Woolwich.
When I got to Taunton I found there was an unadvertised train that led Taunton for Paddington at 12.30 non-stop, getting into London one hour before I expected so I was here by 4pm.
From Paddington I phoned No.2 Group Workshop and they said to come along tomorrow, not to bother to bring all your kit. So I trotted along to them this morning and saw a major who explained that there wasn't anything there for but I would probably be posted to Donington. By this time I'd made up my mind that I wanted to stay in London so I explained that as I probably only had about eight months to do I wanted to stay in London and start evening classes to prepare for demob. I told him about the business situation etc. He explained that the reason for posting to Donington was to avoid my lower rank (a thing they do their best to avoid). I, however, contended that my studies are more important than the extra pip. I've suddenly become very sure of that. I hope I'm right. Anyway, he said he'd arrange that I should see the brigadier in the afternoon.
Well, from then till five o'clock I wandered around and had lunch at the Officers' mess.
At three o'clock I turned up and was shown to the boss. He said "You want to stay in London?" and I said "Yes." He said "Well, I was down at Woolwich this morning and they want an officer there who can do most things. Can you only do instruments?" So I said "All my Motor Transport and Guns is self-taught but I've had about four years on it." He seemed satisfied and said "You shall go to Woolwich. I'll give so-and-so a ring."
So, I'm going there tomorrow morning and by the evening I shall know a little better how things stand.
I was tipped that there is no accommodation for REME officers and that I might have to live in the R.A HQ Mess. So your mother and I have put our heads together and Im investigating the possibility of living here with your parents in view of my attendance at the London Refraction Hospital, though I shan't start there until they return from holiday.
Say, do you know who I met in Regent Street today? Diana's husband, back, I gather, on compassionate grounds. He left Calcutta about four days ago and is staying about three weeks. We had a long talk and the came in the bus with me to Baker Street. You'd have thought we were bosom pals.
And now thank you darling for a wonderful holiday and thank you for a wonderful home in which to spend it. It's really wonderful how you managed to make it look fully furnished. I'll write and tell you more about my reactions when I've thought them more.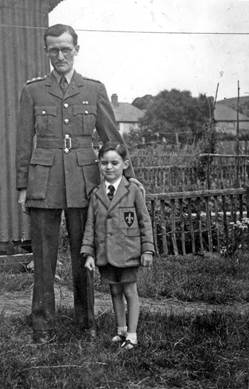 John reunited with Anthony June 1945
Your parens are well and looking forward to their holiday. The dogs both look very well and well groomed. We took them to the park last night.
All my love to your dear self and to our little "load of dynamite".
Your adoring husband,
John xxxx
Not to be reproduced without permission