Letters and Diary
Same again
31st January 1946
My own darling,
It was grand to hear your voice over the phone last night and now I'll tell you what started it.
On Tuesday your mother started fretting and was quite sure there was something wrong with you particularly as you hadn't written for a week—I explained that your last letter was Friday and that I only expected one a week but when she gets a bee in her bonnet, well, you know what it's like.
Then last night came your letter and she was simply dancing around wanting to know what was in it and I was misguided enough to tell her that you had felt seedy but the part of the letter dated Tuesday said that you were ok again, and then, another blunder, I said that Anthony was sleeping with you.
From this she decided that her premonitions were correct and that you must both be hospital cases and that she must ring up straight away.
Your poor old father had to do the phoning (hence his attitude of pulling embers out of the fire) and when I see him on his own again I'll tell him what you told me to tell him.
I believe you fully understood why my language was so guarded. At the same time I was trying to make it sound casual—your mother's ears were particularly flapping or is it trembling?
I think your mother wonders why I don't worry about you. She thinks I'm reserved and cold. Well, if I was working she wouldn't be any the wiser. But I don't worry sweetheart because I have complete confidence in you. I'm quite sure that if you are in difficulty you'll let me know. You couldn't have made such a thunderingly good job of the past five years if you weren't very capable.
At the same time darling I know that this last bit is dragging and the burden isn't made any lighter by our impatience—I'm just as impatient as you and Anthony. The last month with you was very lovely in spite of being spent in a home other than our own. I don't think you took such a rosy view of it as I did but in our own home it's going to be just wizard.
You know darling I have been thinking recently, taken by and large, how lucky we have been and how, ever since I have known you our little lives have worked out more or less to plan, and how we have been able to meet all our difficulties with something in hand. We got married two years before we anticipated, acquired a nice little optical business then along comes the way and instead of losing anything we have gained a home, a son, no debts and a lot of experience. This is why I can't bring myself to be worried about the future: the National Health, Insurance, atomic bombs and so on. Our Lord was evidently helping us before and I don't think he's going to stop now do you? And that s one of the reasons I hope that you, my love, will give me another child when the time comes.
But you'll think this is a funny letter so I'll get on to more usual topics.
Supposing I am released about the middle of March I can see no reason why we should book up a holiday in advance, just go along and get in anywhere. I'm sure it will be vey easy although if we can make up our minds in advance it would be much better.
A short paragraph in the Express this morning informs 26 groups of officers that they are like t be held up for a further four months. Looks as though I'm just on the right side this time.
I'm taking my parade this afternoon so I'm killing time till  3pm in the Mess and so you, my darling, are getting a rather longer letter.
No beach hut this year sweetheart, let's save or pennies so we can get that car.
I shall apply for the leave dates I mentioned originally, the 23rd, I think i can manage to wait a few days for you my sweetheart though I admit it will be difficult.
Take great care my sweetheart. I love you so much. My love also to Anthony
And I'm still your very own,
Johnnnie xxxx
26th January 1946
My Darling Janie,
Well, thus is Saturday afternoon. Mum and Dad are at the movies but I've figured if I went this wouldn't get written—oh, I'm not beg a martyr I was too lazy to go out and see an indifferent movie.
I have just received a little letter from you darling. I prince on them just like always—I mean even the Auto car magazine had to wait till second so that proves I love you still doesn't it?
John Westbrook and the next of rage 25's had a 48 hours' leave this week and then before you can turn round the 26's will have gone as weell and mist of my seniors will be gone,
The colonel was involved in a car smash last night and had a cut lip and his mouth was badly lacerated with his false teeth. 
Yes, I can't imagine why you shouldn't come back with me t London, can't see any snags myself—still don't know where we're going to go, can't find anyone who knows Barmouth, or would you prefer it to be Cornwall? Probably safest as it's the warmest part of this country. Let me know soon if it's going to be Cornwall as you know plenty of places there already. 
No, I haven't seen anything in the pyjama line in Woolwich yet. I do however know roughly what I want—oh, what's that? Well,just mind your own business!
I shot home quickly today and managed to go to Foyles before they closed and spent that 7/6 token and after ferreting about I fund just what I wanted—"The World's Best Photographs" — well marked down in price because the cover was so faded—its new  price must have been about a pound and 7/6 did the trick! There is some wonderful stuff in it just asking to be copied—which is after all my usual; method. I noticed that films and paper are coming off the restricted list. I should be able to get on with my Indian pictures.
I found that I had a full-blooded engraver in the Instrument shop so I got him to put my initials on the back of my watch and it really looks quite good.
I hope darling that you'll go and see Dr.Bain about your hands so that you may get some treatment for them.
Since I stopped this letter I have written to Auntie Edie, giving an invitation for the summer; to Diana sending the money for those undies; and to Cyril. I haven't really stopped since 4pm and I want to try and get some more done before your parents get back and it's 7.30pm now.
So I'll close this letter by saying how much I love you my sweetheart and miss you. Coming home in the evening is almost meaningless when your head isn't resting on my shoulder and your body nestling close to mine. No lover there to make me feel romantic or to join in the pleasures of married life with me.
All my love is yours my darling and until I can again prove as much take great care of yourself and Anthony.
And I'm your very own.
Johnnnie xxxx
Same as usual
22nd January 1946
Darling,
I'm sending these forms back to you 'duly completed'. You'll be interested to know that your mother has also received one. I must admit that I hardly get the drift of the document. It doesn't seem to ask many questions such as
why you have no more children
Why you were not married younger
From a population angle that is what they want to know and I'm sure they can't draw any conclusions from these forms.
The person who comes around may ask questions: answer them as far as you can.
I am now wearing the watch I told you about. It isn't brand new but it wasn't used much. It has a vey nice looking movement, 15 jewel and all that sort of thing. My chap has stripped it and cleaned it.
It has gold scroll type numerals and is fitted in a silver shockproof and warrproof case and a pig skin strap. I think I've got good value.
So long Darling I'll write again later but I want to get this off.
All my love is yours and Anthony's.
Your own,
Johnnie xxxx
As usual
21st January 1946
My Darling Janie,
Taking everything into consideration it's been quite pleasant this weekend. On Saturday I had lunch at the Mess after which I ambled gently home but on reaching Marylebone I was seized with the desire to take a hot bath. So I toddled up to the public baths place and had a good hot six pen'eth and I felt much better.
Then I went along the Edgware Road in order to buy some cake and pasties. Just outside Wharcncliffe I met Russell and I felt much better still and I detailed him for cooking 'fatigue'.
Well, they went out to the movies and I stayed home as it was the flick we had seen together and it was then that I rang you. Goodness, wasn't it a poor line.
Of course, I lit the fire as soon as I got in as that flat seems to get cold cold very quickly. Russell and your dad were saying that as long as the boiler is going at King Geirge Road the whole house will keep warm. Anyway, your father (Chief Stoker) banked the fire up before he went to bed and I was abe to catch it in the morning.
Russell and I gt he lunch. I also cleaned the floor, fireplace ad so on, I also spent most of the afternoon tidying up our room and of course, being me, I altered things around the place to be resectable for when your mother comes back.
Well, as Russell and I got lunch at 1.45 prompt your father insisted on clearing and washing up. I stowed the table out of the way and he gathered the chairs around the fire and later we had tea on the card table.
We all went to service in the evening and dragged David home with us. So your father and I cleared up and settled down to listen to the radio.
I hope this detailed description doesn't bore you but it's so difficult to find things to write about apart from saying ho cold it is and things like that.
I was relieved to find you didn't mind about the watch. I haven't received the new one yet and it might of course fall through. I'm told this watch chappie that he must be thoroughly satisfied with the watch before he buys. I shall not know if he has been successful until tomorrow. It should however have a 15 jewel swiss movement, which sounds ok and I thought the chance of having the watch selected by a chap who has proved to me that he is a god watchmaker was not to be missed.
What a day it is today. It's getting darker and darker although it isn't lunchtime yet. The pipes have burst and one of the shops is without heat.
Please don't forget David's negatives besides those that are at the back of the shop. The ones that I cut up ad brought home are nowhere to be found about here and I wondered if by any chance the were at home. I do wish that you'd have a look my love.
All for now sweetheart 
Chins up, only 52 more days and even less to my leave.
All my love is yours and Anthony's 
Take great care of yourselves.
Your very own,
Johnnie xxxx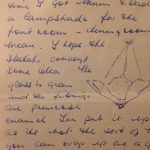 Wharncliffe
4th December 1945
My own darling,
I'm on guard this evening and having had my dinner and done the rounds I can settle down to some writing and swatting.
I shan't close this letter until I have have had the specialist's verdict which should be sometime after 9.30 tomorrow morning.
I went into the lampshade shop yesterday at lunchtime and got you a lampshade, one of those fluted affairs with pale blue trimming. It's going to be a hell of a job carrying it. I've found a cardboard box for t and t's huge. At the same tie I got your parents a lampshade for the front room—living room, I mean. I hope the sketch conveys some idea. The glass is green and the fittings are primrose enamel. I've put it up. It's not the sort of thing you can wrap up as a gift. Your father wanted to pay for it but I told them it was a Christmas present and not to argue. It cost 27/6 and I think you'll agree it's quite a nice gift.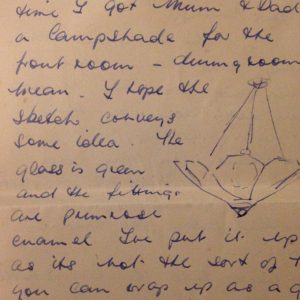 I rang Evie last night and asked her if David needed pyjamas or shirts most—shirts had it so I got her to give me his collar size and tomorrow I'll get him one from us.
Russell, Stephen and Evie I'm still thinking about.
I don't wear an overcoat theses days or a mac except when it rains—I wear my army pullover next to my shirt and that is sufficient for me although there was ice on the roads today. Of course I walk very energetically and feel fine.
Well, I've seen the specialist and he said I could have it done if I wanted. But that if it was no inconvenience it would never come to any harm. So I'm not having anything done.
He reckons it's a cyst containing blood that was not absorbed when I had my accident and fell off the roof of the Motor Transport shop about fifteen months ago. He thought that it might even be absorbed in time but was quite sure it would never go wrong.
So now we are all set for Saturday my darling and I am so looking forward to it.
All my love is yours, take great care of each other.
Your own loving,
Johnnie xxxx
Wharncliffe
2nd December 1945
My Darling Janie,
The "present" situation has much improved since I last wrote to you.
I went down to B.B.Evans and Kilburn in general on Saturday afternoon—on my way up to Evie's, and looking around I found you quite a nice Christmas present. I always can see something for you but as for anyone else I fall quite flat.
I did pick up quite a nice cruet set in bakelite which can go to someone.
Russell came home for a few hours at the weekend and turned over all his old toys to Anthony and so I spent all Sunday afternoon going over the stuff. I cleaned and built up a Meccan aeroplane that was in excellent condition (in fact as good as new). That present can come from Uncle Russell.
There are quite a lot of trains: an engine which I am now having repaired, a tender and three coaches in good condition, plenty of rails, a footbridge and a railway bridge, slight repairs being carried out and finally a station and all the little items to go no it, a good Hornby engine and the Frog aeroplane all being saved, a chemistry set and a floodlight outfit I'm bringing down to be put away and finally the Pick-a-brick is being kept in London for when he is staying in London so that all seems to be organised.
I'm trying to get a lampshade for your parents. I have sent the book to my father. It's too late to get something for Maurice, I'll get him something when he gets back. That leaves Russell, David, Evie and Stephen. I shall just have to into Woolwich each dinner hour until I've got everything.
Provisionally I've arranged about Christmas and so Christmas at Wharncliffe with Evie, Stephen and David and the following day at Evie's place. Your father is arranging seats for a Panto Thursday or Friday.
And how is the cough my sweetheart? I do hope that you are both well again.
I don't propose to bring any civvies down with me but use what I have got down there. I'll have things to carry without bringing clothing as well.
Newsflash: my appointment with the specialist is on Wednesday 5th so that will come immediately after Guard.
All my love is yours my sweetheart and our little boy's.
Not so long now and I shall sleep in comfort again.
And I'm still your very own,
Johnnnie xxxx
Wharncliffe
29th November 1945
Darling Janie,
Just a line to say that all is well and I'll push off with a few questions. 
I want to get the other record of the Moonlight Sonata and I'm not sure if the pianist is Paderowski? And the other chap with an even less spell-able name, so can I have name and record number?
If there are some Christmas presents you want me to get will you please let me know what I am to get. I don't like shopping without you one bit.
What record did you want me to get for Anthony? You mentioned something but I've quite forgotten what.
I notice that there is "Alice in Wonderland" available, about four 12" records at a time with all sorts of stars playing the parts and singing. There are two sets up to date.
We now have a handicrafts class and I have asked them to make me one of those Tommy guns for Anthony for Christmas. Besides that, in the New Year, the NCO in charge says he will be able to knock me up an ironing board for you. He says the one he made for his little girl can stand the weight of both his children so if made on the same lines yours should be robust.
I got a few bits for Anthony's stocking and the glider I'm making is getting on quite well—in this connection do you think you could get hold of some catapult rubber for launching the thing. 
Yesterday after you phoned we discovered a Meccano aeroplane of Russell's and I've built it up and I suggest he may get that as a present. There is also a cheap train set which I shall have a chat with Russell about. The stuff has been well kept and with just a bit of vetting is good as new and nowadays quite unobtainable.
All would seem to be ok for Saturday week. Captain Stevenson wanted the same date and it looked for a moment as if I might have to move. The Guard rota has now come through and I'm on duty Tuesday so Saturday and Sunday are free.
I've made up my mind on the price business bit the stuff can wait till I get down on my holiday.
Isn't it marvellous, we might even be together for nearly a month. As for Christmas it seems as anticipated we shall finish Saturday midday till Thursday morning. Of course, I'm almost bound to have a guard duty during that period.
All my love is yours my darling and Anthony's.
"Tomorrow week".
Your very own,
Johnnie xxxx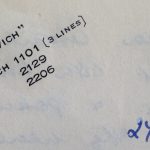 R.A.Mess
Woolwich
27th November 1945
My Darling Janie,
As I told you I went sick today so as to get this lump on my thigh examined.
The Medical Officers were definitely interested and I had to stand up and lie down and they waggled my leg all over the place, prodded and poked me.
They won't commit themselves but suggest that it may be a cyst (which is, of course, my opinion). You can feel a soft sort of lump underneath the muscle.
Anyhow I have been to the surgical specialist and I now await an appointment with him and more prodding and poking and I suppose the usual X-ray.
What happens if they prove a cyst I can't imagine—I suppose they'll want to cut it out. So you can see I've got to be careful as I'm going to mess my holidays up. I suppose if an operation is indicated I'll be able to talk them in to leaving till after Xmas.
Of course all this is pure supposition and is the product of a mind that wants some reason for not going overseas again so that I can stick around somewhere near your dear self and get on with the work I want to do so that I don't have to stay up in London taking courses after I'm de-mobbed.
I do hope that the foregoing hasn't worried you at all because I didn't mean it to. It honestly doesn't worry me. The lump in question is just the same as it has been for the last six months—no pain, no loss of movement, just a lump. I just got the urge to have it attended to so off I went.
I don't suppose that I'll see the specialist of at least a week—it was nearly three weeks last time and I'm certainly not going to hurry them for while they are messing me about the can't post me somewhere.
The colonel is very ill in hospital. The story is that he is having injections every two hours that are turning him black so what all that means I haven't the least idea.
The Saturday morning optical class is a great success and some were plotting some more lectures but I pointed out that the present programme lasts till the middle of January and that by the end of that month most of them would be de-mobbed. 
The reason for the writing paper is that my appointment was for 11am and I was back in the Mess by twenty past, no waiting at all. So rather than fag all the way to the office and back I came into the writing room to write to you. I was due to do that sometime today anyway.
The Medical Officer who examined me told me it was his last day in the army and all the other officers there were in de-mob—hold me down somebody!
I went to get some records yesterday and I got five out of six of the ones i asked for. The assistant stared at me agog as one after another were 'in stock'.
12" children's overture (for RHB)
12 " Jealousy (Boston Promenade)
10" Peanut Vendor (Louis Armstrong)
10" Begin the Beguine (Joe Loss)
All right, wait for it:
10" I'll see you again (Brooke and Zeigler)
A first class bunch. I'll bring them down with me on Saturday week.
All for now my sweet as I'm getting hungry.
All my love is yours as ever and also Anthony's.
Take great care and gt rid of that cough.
And I'm still your very own,
Johnnnie xxxx
Wharncliffe
25th November 1945
Darling,
Just a line to let you know that all is well with me.
The parade on Friday went off well. There were mistakes but in view of the fact that we have one of these only once in three months so we don't get much practice, it went off well.
Yesterday I went to Bowmans to see what they'd got—oh, a terribly poor show. But I did get you something—a Christmas present for you—but I'm not telling what it will have to wait till I come down on my holiday. I'll have to do it that way so that you won't have to carry it back home.
No, it wasn't a lamp standard or a shade. I wasn't satisfied with them. I did, however, se a standard just like ours. But it was painted a royal blue with a blue shade and it looked quite good. Do you like the idea?
We have just been phoning you and it was lovely to hear your voice my sweetgheaet but as I said the motto is: "A week on Saturday."
So bear up my honey, twelve days shall we say?
And now let me stick down a few reminders:
The film in my camera to be developed and prinrted
The Auto Car magazine from Coxes
David's negatives and those left in the dark room and the ones I took on my disembarkation leave.
I have an idea that I may be able to get good enlargements made of  the ones I took.
I've got the name of a book that my dad might like from the minister who preached tonight. He was a jolly good chap and it was one of the best sermons I have heard for a long time.
Thank you very much for sending my pen along sweetheart and the price lists. As regards the letter I still haven't an up-to-date price list from Taylor's. The one he sent was dated 1935 so will you write to them again please my sweet.
All for now my sweetheart and I do love you and long to live with you and Anthony again but it can't be much longer now and in the meantime all my love is yours and Anthony's.
Take great care of yourselves
And I'm still your very own,
Johnnnie xxxx
Wharncliffe
22nd November 1945
Darling,
Things are just a bit hectic just at the moment so I'll describe them.
Yesterday we got told that the special parade due for Saturday is to be a Brigadier's Inspection and s on Friday it is to be a dress rehearsal for Saturday and hence two parades instead of one. There is no doubt at all that we need a lot of practice if it is to look any good.
well, when I got home last night I found your mother in bed with a stiff cold, nothing in my opinion to worry about but the lady tends to be cautious. So I had to set about getting my supper: vegetable soup, meat pie and baked beans, and it went down very well. Of course, had I been warned I'd have had my meal out.
I really got stuck into those prices for the business last night. There There is a lot of work to be done before I can produce a good price list. First a Master one, then one that can be used in the shop. But I'm finding it very interesting and it's getting me ready for coming back to the shop.
But to continue my story: when I got here tis morning and had a look at parade and train times and consider that I would have to get my own meal if I went home I thought it better to remain at Woolwich, if you can imagine it.
I'd got everything I needed except my boots when my eyes lighted upon Lt.Ross's boots and in less than no time he was wearing my shoes and I his. (They fit me much better than Stephen's).
Then I discovered that I was contravening regulations by having mt=y medal ribbons on a bar so I slipped them off, slipped in a thin piece of celluloid and got Mrs.Lovery to sew it on again (She is the typist).
So as I had to remain in Woolwich I've taken over the Guard so that the other chap could go out. It was the only way I could find a bed for the night annd he sure I was up in plenty of time for this damned parade.
News flash: the C.O. is in hospital and so the Brigadier's inspection is off but the dress rehearsal for tomorrow is on. What a life! I hope there is a pea soup fog.
By the way we get tortoiseshell frames from a company called "Ocentric" and purchase tax is 100% so that bill would seem to be OK as I found a similar bill for September (be sure it hasn't been paid already).
You say Anthony came up in a rash with camphorated oil. I gather this isn't unusual, it should go in a couple of days and it will only be where I rubbed it in. But in future PHONE if worried my darling.
All my love is yours and Anthony's.
Take care
And I'm all your,
Johnnie xxxx
Not to be reproduced without permission